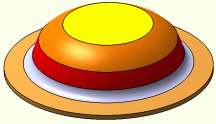 This Excel software is a completely new and unique approach to parametric cylinder head design. The model is an interactive user friendly design with up to 3 different bowl surfaces using cell inputs and spin buttons. The calculations and geometrical updates are performed instantly and interactive. Cells that are changed often when adjusting the design have small spin buttons

for +/- increment change. The changes becomes more interactive and user friendly by less keyboard inputs. By default, the squish band angle is automatically optimized for any given head parameter. Custom squish band angle can be chosen for special user needs simply by clicking a checkbox and entering a custom value. Help windows with definition of the parameters are embedded, accessed by buttons. Plenty of internal recommendations guides the user towards good working and solid designs. The head is designed with respect from maximum squish velocity, compression ratio, squish band dimensions and mechanical strain.

The very unique 'Strain' function takes all material strain into account, (e.g. crank bending, bearing gaps, etc.) which affects the piston TDC location relative the head, thus squish gap and squish velocity. This is a sensitive and maybe the most critical variable when designing a race head for optimum combustion. Since the crank and other mechanical parts are stretched during increased rpm, there will be different squish conditions at high and low rpm for instance. The button MSV-rpm will show a chart with Maximum Squish Velocity vs. rpm from low rpm to 25% above target rpm in order so show the consequence of over-rev dependent on your total strain at target rpm. See the manual about how to use this feature in the correct way. Some theory about cylinder head design is presented in the 'Theory' link in the menu. Read about all the features and details in the user manual at the page bottom.

The program also has language support !
System requirement:


MS Windows with installed MS Excel 2003 or later except any trial- or student version.
---